Charting a course with your health & safety in mind
Ready to get back out there RIGHT NOW or waiting for 2022? With our Beyond Ordinary Care Program, you can feel confident stepping back on board no matter when you choose to travel. We've made a multi-million-dollar investment in our newly transformed all-suite Star Plus Class yachts and sailing ships to provide a healthy environment with hospital-grade HEPA filters, UV-C light and enhanced sanitation. To provide an additional layer of protection, we are requiring all guests to have a COVID-19 vaccine.
We're also working with industry experts and following regional regulatory guidelines to establish safety protocols everywhere we sail.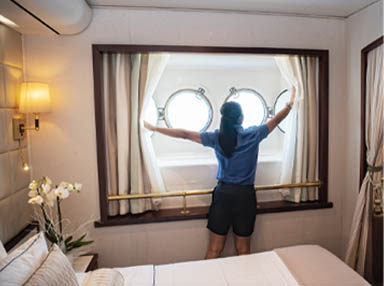 Enhanced sanitation on every yacht.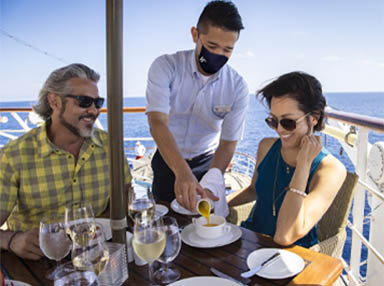 Safety protocols help keep everyone protected.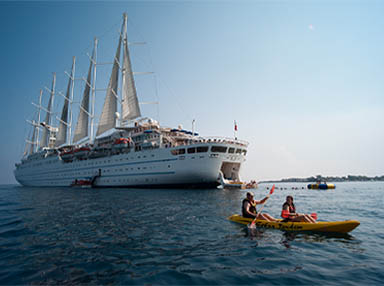 Space to explore from the Watersports Platform.
Things might be a little different, but we're still delivering a 180° from ordinary experience. Here's what you can expect when sailing with Windstar:
All guests are required to have completed a full course of COVID-19 vaccine at least 14 days prior to embarkation
We're offering COVID-19 PCR and antigen tests on board for a nominal fee to allow guests to conveniently comply with CDC travel regulations to travel back to the USA
You can go ashore by booking one of our newly added Windstar shore excursions vetted for following local health protocols ranging from private areas at renowned beaches and beach clubs to personalized tours in private vans and cars
The "Windstar Wave" will replace handshakes to greet you
Dining tables will be spaced apart and crew will serve meals, eliminating the self-service buffet
For the full list and the most recent updates, visit windstarcruises.com/health-safety/
Small is a big advantage

Our yachts carry only 148 to 342 guests, making it possible to sail past the big tourist ships and dock at remote ports with fewer crowds or anchor in private bays and open up the Watersports Platform on our back deck. Fewer guests on board fosters a friendly, relaxed atmosphere. And it's easy to socially distance, whether you're relaxing on the yacht's Watersports Platform or at the pool.
Book your Windstar Cruise by July 30, 2021, and receive your choice of up to $1,000 onboard credit OR a free hotel night including breakfast and your transfer to the Windstar yacht. Whatever you choose, a bottle of Veuve Clicquot champagne will be waiting in your stateroom or suite to celebrate your return to cruising.
We can't wait to welcome you back on board.

Learn more about getting back to sailing on Windstar yachts by calling your Travel Advisor at 800-544-8728.
Discover all the Select Sailings by Windstar, 15 exceptional cruises with thoughtfully designed itineraries created to surpass all expectations for all those who feel they've "been there and done that."
Book now with your Travel Advisor at 800-544-8728.


Fugazi Travel 345 California St. Suite 160 San Francisco, CA 94104 CST: 1007734-10 • DK1016 • 061621
© 2021 Windstar Cruises, 2101 4th Ave., Suite 210, Seattle, WA 98121. All Rights Reserved.