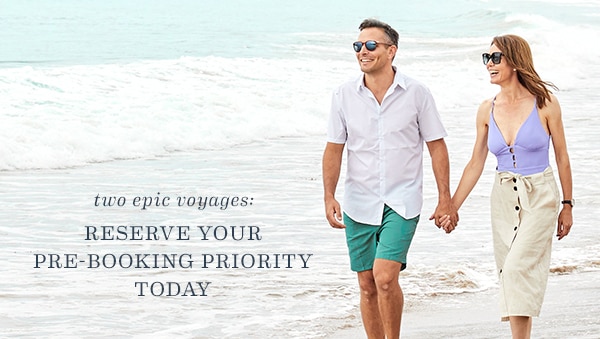 Fuel your wanderlust with two expansive voyages in 2023. For a limited time, you can reserve your preferred suite before these inspiring itineraries open for sale. Early booking amenities and offers are available too, so start making your plans today!
Call Fugazi Travel at 800.544.8728 by January 15, 2021 to reserve your pre-booking priority.
Create memories — and friendword! — that will last a lifetime on this globe-spanning adventure. Immerse yourself in the legendary places you've only ever dreamed of while enjoying award-winning cuisine, delightful entertainment and world-class service on board.
PANAMA CANAL & SOUTH PACIFIC

Explore the Panama Canal, South America's Inca Coast, remote, UNESCO-cited Easter Island and storied Pitcairn Island. Then fifteen rapturous South Pacific gems are crowned by the Great Barrier Reef and Sydney Harbour. Ventures by Seabourn® adventures available in select ports.

Western Australia & Indonesia

Explore sophisticated Melbourne, the Yarra Valley vineyards, gorgeous Western Australia beaches and Albany's historic Anzac Centre. Stroll Perth's riverside Kings Park and see the wildly beautiful Kimberley. Enchanting Bali hints at the grandeur of UNESCO-inscribed Borobudur.

Africa

Sail Africa from the serene Seychelles to the Parisian boulevards of Dakar. Tour teeming game parks in Kenya and South Africa. Explore Zanzibar's UNESCO-inscribed Stone Town and breathtaking Cape Town. Discover pristine Namibia and the vibrant cultures of West Africa.

Europe

The Cape Verde and Canary Islands were waystations for European explorers homeward bound from Africa and the New World. Savor them for yourself, as you sail toward Morocco's European-flavored Casablanca, then pass Gibraltar to end your epic voyage in vibrant Barcelona.
From Panama to Antarctica –our epic voyage around South America encompasses Inca ruins, great world cities, colonial splendors and breathtaking natural wonders. Experience it all during one unforgettable season on our elegant, ultra-luxury resort at sea.
Panama Canal & the Inca Coast

After your daylight Canal transit, stay overnight to visit Panama City. From Manta, ascend to Quito to step across the Equator, or opt for a Seabourn Journey to Cuzco and Machu Picchu in the Andes. Marvel at 5,000 years of pre-Columbian treasures in Lima's Larco Museum.

Patagonia, Antarctica & Atlantic Isles

A Ventures by Seabourn® team adds expert insights and adventures in the Chilean Fjords and your five unforgettable days exploring the breathtaking White Continent. Visit two isolated wildlife havens in South Georgia and two windswept Falkland Islands enroute to Buenos Aires.
Brazilian Treasures & Caribbean Isles

South Americans flock to play at the resorts of Ilha Grande and Búzios. Rio's picturesque, peak-dominated harbor is a UNESCO World Heritage Site. Recife and Natal are colorful colonial treasures, foretelling the vivid, sun-blessed hues that welcome you back to the Caribbean Sea.

The Incomparable
Amazon

The greatest river on earth flows through the world's largest rain forest. Survey a thousand miles of its banks, visiting the important cities of Santarém and Manaus, as well as remote village outposts where colorful celebrations and timeless traditions endure.
| | | |
| --- | --- | --- |
| Since | | 1869 |
F V G A Z I

---
T R A V E L A G E N C Y, I N C.
(800) 544-8728 • (415) 397-7111
345 California St. Suite 160 • San Francisco, CA 94104
info@fugazitravel.com • www.fugazitravel.com
CST: 1007734-10 • DK1016 • 010221
Seabourn

ALL-INCLUSIVE DIFFERENCE
We are staying atop COVID-19 health and safety protocols which may impact our voyages and offerings. Find out more here.
SE2102FUT
Ships' registry: Bahamas. ©2020 Seabourn.
Seabourn, 450 Third Avenue West, Seattle, WA 98119, USA